Whitening in Manteca CA
Your smile may not look as white as you would like. Discoloration occurs for a variety of reasons. Teeth tend to darken as you age,
so noticing your teeth darkening over time even though you brush and floss regularly does not mean you've done something wrong.
However, tobacco use, consuming staining foods like coffee, tea, and red wine, and side effects of certain medications can resu
lt in yellowing, darkening, or spots.
What Is Whitening?
Whitening is a cosmetic treatment that lightens the color of your teeth by removing
discoloration. You may wonder why you can't just use whitening toothpaste or whitening
strips from the drugstore. The products you have access to are not quite as strong as over-the-counter options. They may remove some surface stains but cannot reach deeper intothe tooth. Schedule an appointment with us at Aura Family Dentistry so we can explain the benefits of professional whitening and choose a treatment that will brighten your smile.
What Types of Whitening Do You Offer?
At Aura Family Dentistry, we offer two bleaching systems, including the following:
What Are the Benefits of Teeth Whitening?
You may not realize the ways in which your discolored teeth impact your daily life. If you are considering teeth whitening but you're not quite convinced, consider the potential benefits:
Whiter teeth instantly give you a younger appearance
Teeth whitening offers an affordable, instant way to enhance your smile
Improved confidence for greater comfort in one-on-one exchanges with strangers,
friends, colleagues, or loved ones
Onlookers will not question your oral hygiene–even if you have excellent oral hygiene, stained teeth may cause your smile to appear
Am I a Good Candidate?
Our teeth whitening services work on natural teeth. If you have a substantial amount of prosthetics, including crowns, bridgework, dentures, or dental implants, teeth whitening is not for you. If you have teeth that have proven too sensitive or resistant to bleach in the past, you may consider porcelain Veneers or Lumineers. However, if you have natural teeth that you wish were shades whiter and brighter, you are a good candidate for this treatment. Schedule an appointment to discuss the treatment that's the best fit for you and unique needs.
Schedule an Appointment!
At Aura Family Dentistry, we are committed to providing our patients with comprehensive dental services alongside compassionate care. Whether you need general care, restorative services, or cosmetic improvements, we look forward to assisting you in reaching your smile goals. Please contact us today to schedule an appointment with Dr. Damle. Call or email our office located in Manteca, California. We are accepting new patients of all ages, including children, and proudly serve members of Manteca and surrounding communities.
Summary: Come in for a consultation with Dr. Damle to discuss your in-office whitening options. Within an hour or less, our friendly team can help you achieve a smile that is eight shades whiter for a brighter, more impressive appearance.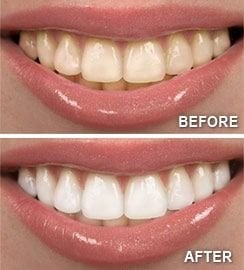 It's hard to imagine anything more appealing than a sparkling, white smile. Yet our teeth rarely stay as white as we'd like them to without a little help. Fortunately, that help is available at the dental office.
Teeth whitening done in a professional dental setting is a safe, effective way to brighten your smile. It's also perhaps the most economical cosmetic dental procedure. Depending on the whitening method you choose, results can be dramatic: in-office whitening, for example, can lighten teeth three to eight shades in a single hour.
Professionally supervised whitening will work faster, and protect sensitive gums and tooth-root surfaces better, than over-the-counter whitening products. Having an oral exam before you begin any whitening process is an important first step to make sure your tooth discoloration is not the result of a dental condition in need of treatment. Also, please be aware that it can be risky to have whitening solutions applied to your teeth by untrained personnel in shopping malls. If you have any questions about which whitening method would be best for you, talk to us first.
Professional Whitening Methods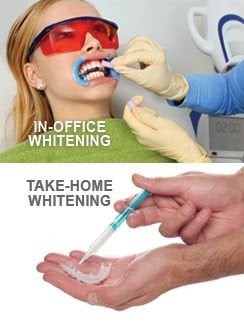 Professional whitening makes use of high-concentration bleaching gels that are not available over the counter.
In-Office Whitening — This technique offers the fastest results with the most powerful whitening solutions available. First, your gums and tooth-root surfaces will be covered with a protective barrier to ensure your safety. A thin plastic device known as a retractor will hold your lips and cheeks away from your teeth as a professional-strength hydrogen peroxide gel is applied. The gel will be left on for about an hour. When it is removed, the results will be obvious immediately.
Take-Home Whitening — This is another effective way to whiten your teeth, though you will play a greater role in ensuring the best possible results and several weeks may be needed to achieve your desired level of whiteness. First, a mold of your teeth will be taken and then two thin, flexible plastic mouth trays will be custom-made for you — one for the top teeth and one for the bottom. You will fill the trays with whitening gel and then position the trays over your teeth. The trays are left in usually for about an hour at a time.
Caring for Your Whitened Smile
There are lots of things you can do to make sure your whitening results last as long as possible, and this will vary from person to person (six months to two years or even longer). First of all, please maintain your usual, conscientious routine of brushing and flossing every day, and keep up with your regular schedule of professional cleanings at the dental office. Avoid foods and beverages that stain, including red wine, tea and coffee. If you smoke, use your newly whitened teeth as an impetus to quit — a good idea in any event! A minor touch-up every so often, either at home or at the dental office, can keep your smile bright and beautiful for years.
Related Articles